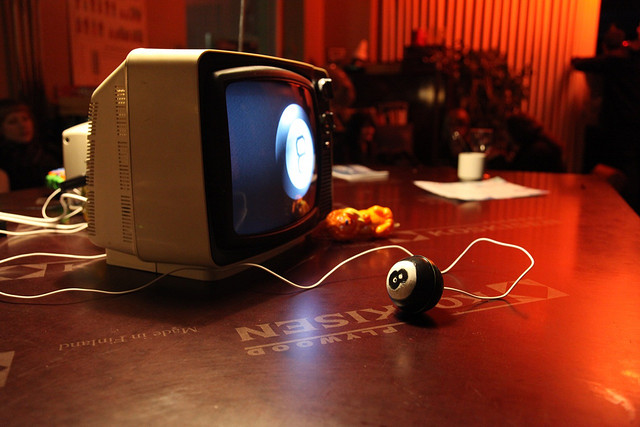 The "Soldering-iron & Code" -workshop started a series of exploration of reactive space & intaraction within the Design Laboratories program of University of Lapland in Rovaniemi.
A bunch of audiovisual media MA students gathered for an introduction to physical computing with me for a couple of days. We started with the breadboard and NANDsynth for quick intro on electronics followed by bit of a soldering. Next day we hooked Arduinos and controlled the synth. Routing serial from Arduino to Flash lead to bit of a frustration – one simple-to-configure proxy to this one and I _will_ click the donate button. Some rescued toys from flea market got gutted and suddenly we had the inevitable creative chaos on the table. Here it got bit messy. I still have the tendency of focusing on emerging details when overall structure is needed.
The enthusiasm of the participants brought that. We decided to do make a demo at oh-so-lovely Kauppayhtiö -club on saturday evening. Accelerometer in an eightball was connected via Arduino to Quartz Composer on laptop which rendered the Magic Eightball -answers on retro-TV for curious audience. Hours of fun, for ages 18andUp. The Shy-guy rotated towards anyone who approached it with trembling behaviour. Surprisingly humane piece of plastic. Few bent toys to play with and we had nice demo set-up for the evening crowd.
I had great time. Quartz Composer was a new environment for me so I learned a lot too. Superior multilayer rendering of visuals compared to Jitter / Gem. Definitely my new weapon-of-choice for next resource-intensive graphics. Thanks TomTom and Aku for great intro on that one.
Apologies for anyone who feel this was a waste of their time. I'll try to improve my workshopping skills with every iteration but every setup is unique. This one was bit too unstructured from my part. Still, I feel the flux nature enabled other opportunities. Strict format is not always the best either.
Thank you Rovaniemi. Thank you friends, the old & the new. I'll be back.