–
Bucket Reality
Virtual Reality installation
---
At: Gallery Sculptor, Helsinki
By: Pagan: Lisa Roberts, Daniel Blackburn, Tuomo Tammenpää
For: KRUKS
In: 2018
Bucket reality explores the future of sculpture in the everyday world of virtual reality. Visitors are invited to explore three miniature handmade worlds using a VR headset mounted inside a bucket that hangs from the ceiling. Through Bucket reality and the accompanying installation, Pagan explores what it means to be present in two places at once and ask how we orientate ourselves when we occupy more than one space at a time. Where are you when you put your head in the bucket?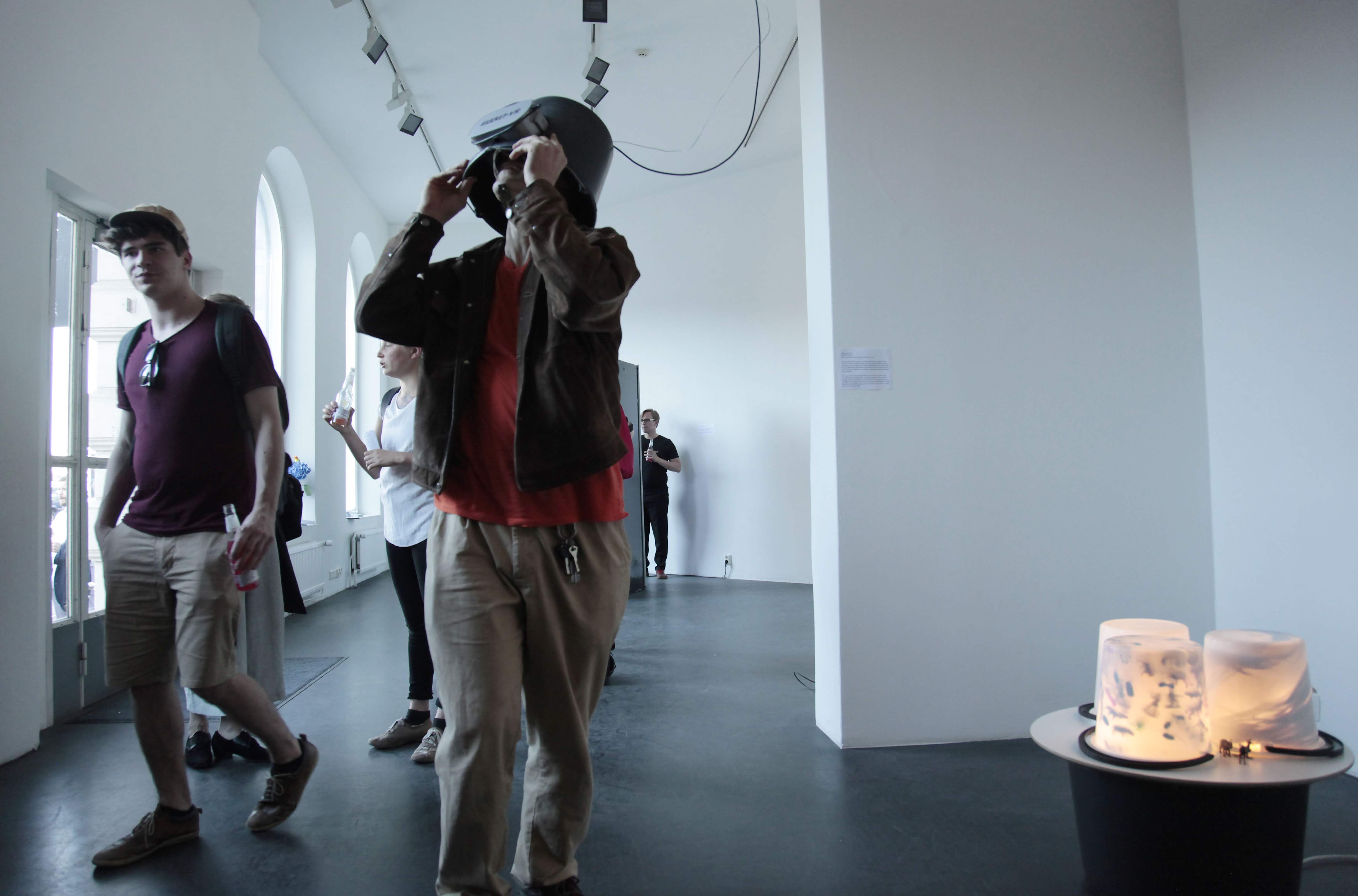 The term virtual reality is most commonly understood as a computer-generated scene that simulates perception of a space. Mixed-reality could be a more accurate way of describing this installation, but it is already established as a term for projecting computer-generated elements to real world. Since the miniature worlds experienced through Bucket reality are present in the gallery, it is also a kind of parallel or co-extended reality. As with all evolving technologies the language of VR is still in flux. We need to feel our way through this together. By exploring the microcosmic worlds of Bucket reality we invite you to create your own narratives and join Pagan in their world of make-believe.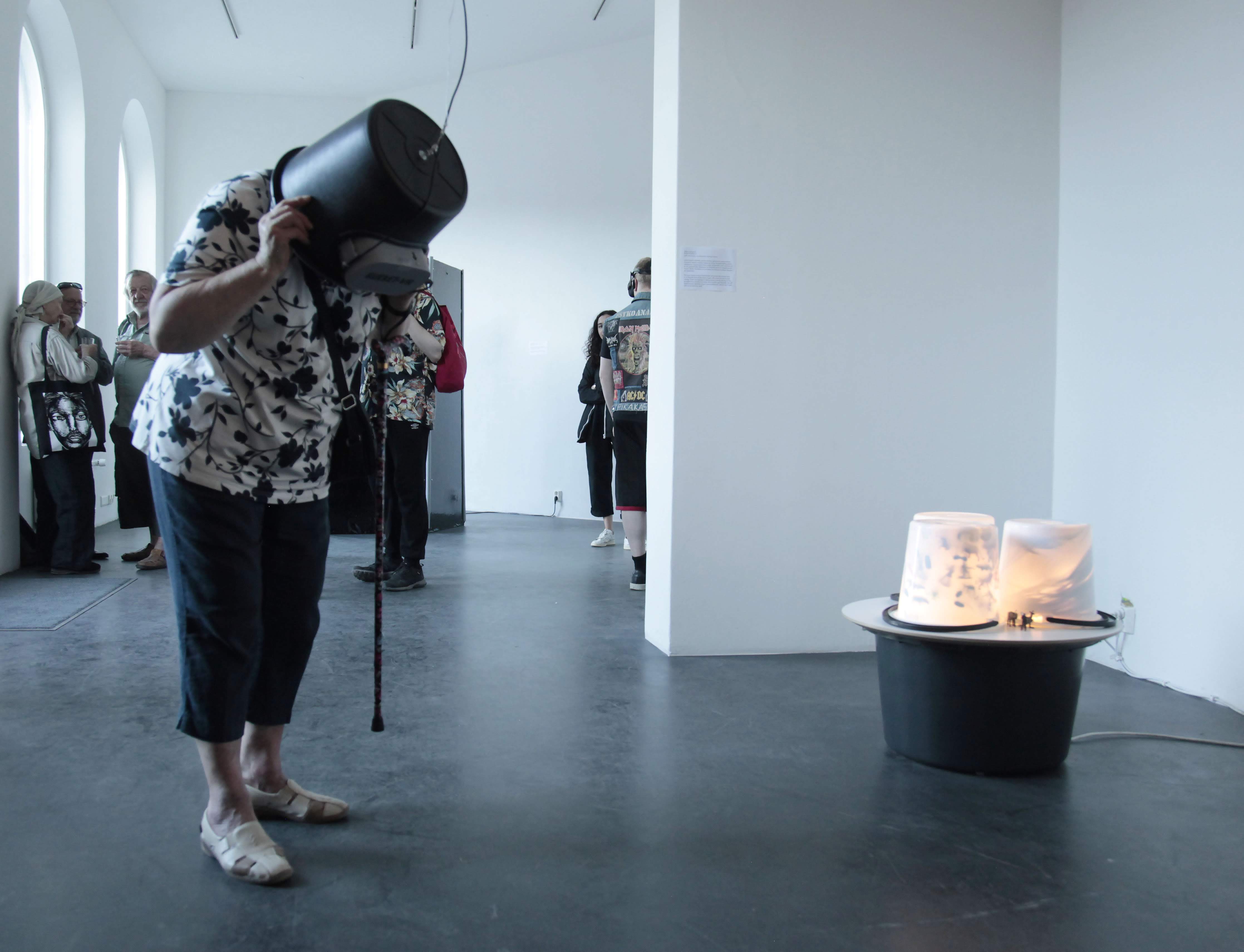 A bucket is not just a ubiquitous carrier of everyday things. It can also provide safety of sorts, as a soldier's helmet in a play flight, a desperate hiding place, a shield which blocks you from the world. Playful immersion. Finns have a curious connection with the common bucket. Free buckets have become synonymous with launch events. Stumble across a shop opening and you will find a long line of punters waiting for their plastic bucket. All for a couple of euros? Children use them for protection in a mock battle or even turn themselves into something magical, just like other head wear and masks worn on the head they can be transformative, ritualistic and real pagan.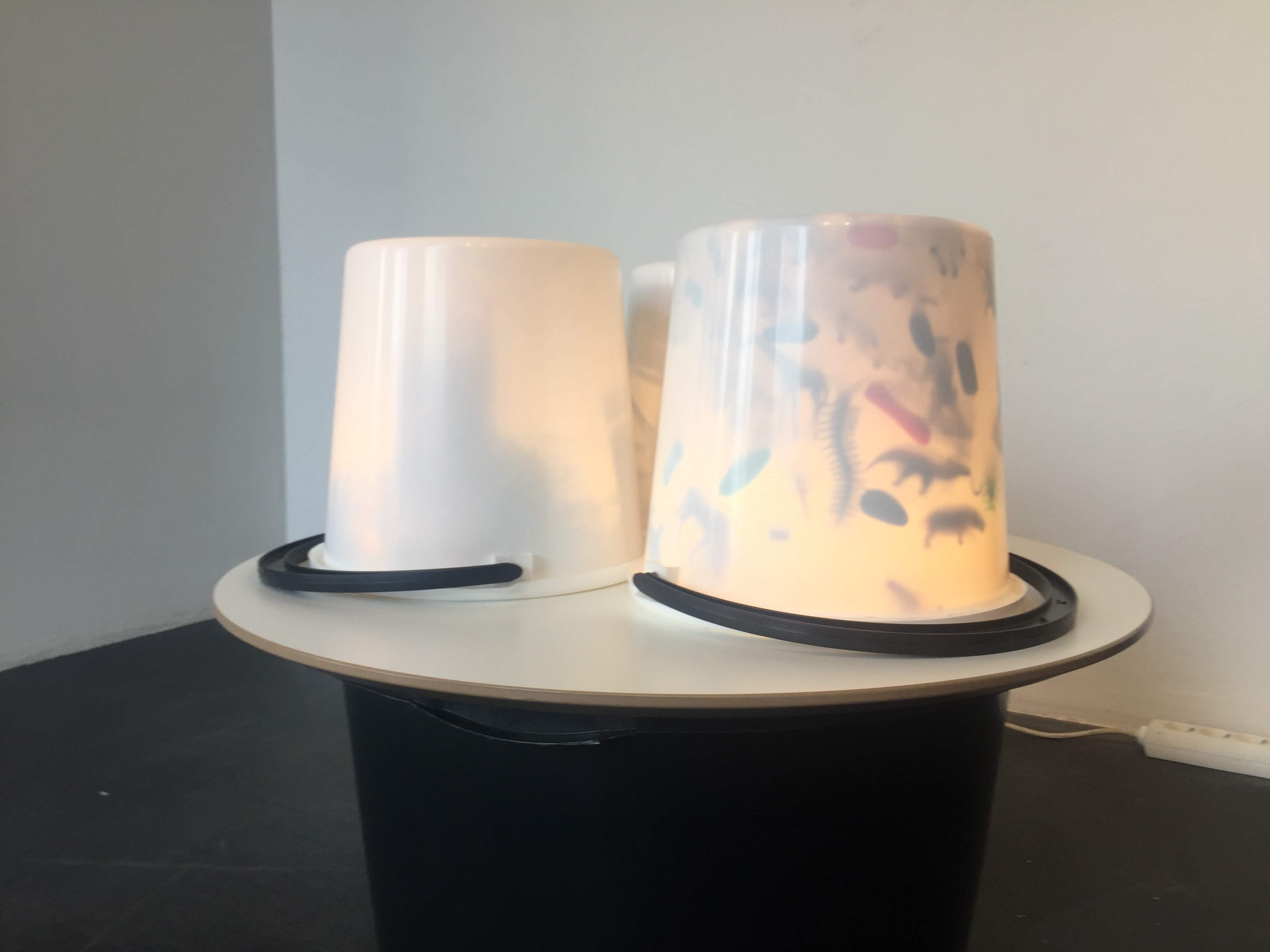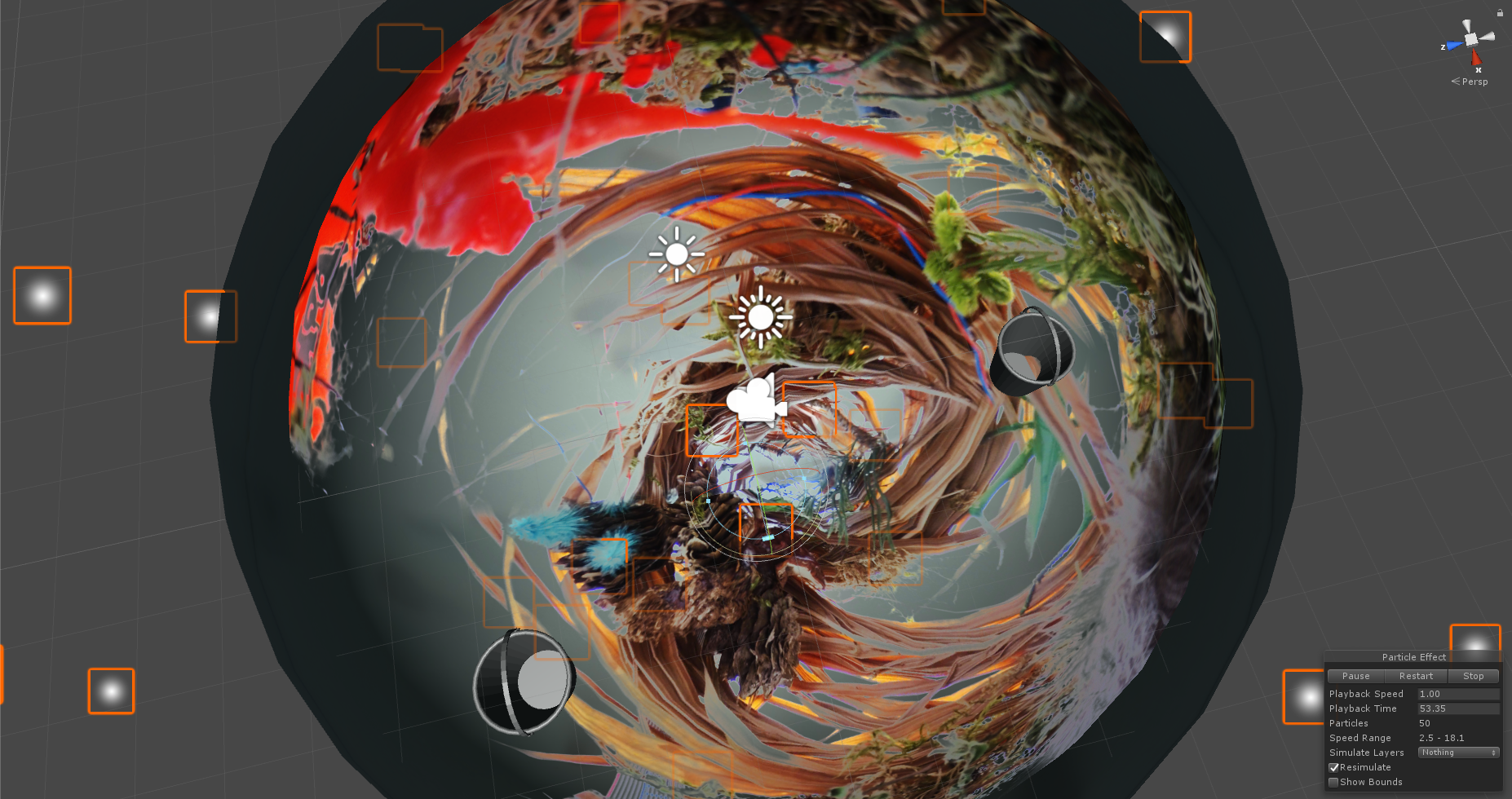 Takeover -exhibition YLE TV stream, Bucket Reality at 4:40
The TAKEOVER exhibition
25.05. – 17.6. 2018
Gallery Sculptor
Eteläranta 12
Virtual Reality (VR) and Augmented Reality (AR) have gathered extensive artistic interest in recent decades. Their development is however driven by the entertainment industry and technology companies, leaving cultural and alternative viewpoints aside. The Takeover exhibition aims to break this one-sided development and bring these new media technologies to the reach of artists.The exhibition reflects on what Virtual and Augmented Reality are as materials and tools for making art.Are they just good for quick experiences such as the Pokémon Go game, and what is their relationship to art? What do they serve, and on ​what terms are they produced?The selected artworks represent different, even slightly humorous approaches to Virtuality such as a do-it-yourself VR headset made of a plastic bucket or a cardboard box in which one can have bodily sensations of Virtuality.
The pioneering work The Conversations with Angels from the 90s provides a media Archaeological perspective for the development of the field.Artists and artist groups Featured are Kari Yli-Annala, Tuukka Haapakorpi, Satu-Minna Suorajärvi, Andy Best and Merja Puustinen, Tomi and Mikko Dufva, Pasi Rauhala , and the Pagan artist group ( Tuomo Tammenpää, Daniel Blackburn and Lisa Roberts ). The exhibition is curated and produced by Jukka Hautamäki and Markku Nousiainen.Kruk is a media art collective founded in 2015 for Finnish and Finland-based professional artists, researchers and enthusiasts working in the field of art and technology. The aim of the collective is to increase the awareness and appreciation of media technology, to connect people in the field; and to enhance the interplay between art and technology, and the study of related social issues.
Artist Meeting Sun June 3rd at 2-4pm.Takeover presents different approaches to virtual art by a group of Finnish media artists. The exhibition is a follow-up to the VR in Art workshop and related demo events organized in 2017 by media art collective Kruk.